Prose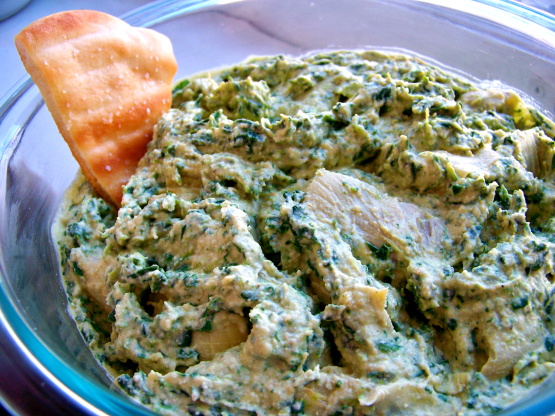 A recipe I made up for Super Bowl Sunday, inspired by some really good store-bought spinach-artichoke hummus. I thought that using hummus as a base was a brilliant way to veganize spinach-artichoke dip (one of my favorites), so I decided to make my own, chunkier version. Serve with Fresh Baked Pita Chips. See my blog post here: http://veganomics101.wordpress.com/2012/02/06/spinach-artichoke-hummus-with-fresh-pita-chips/
My food processor is not large enough to accommodate this recipe and I think 28oz of chickpeas is overkill. So I reduced to approx 18oz chickpeas and as the other reviewer did, I processed the artichokes along with everything else. I also reserved the artichoke water and used a combination of that and the reserved chickpea liquid because it was awfully thick, even with the reduced amount of beans. I also added Himalayan salt and fresh ground pepper. Oh, and I used juice of a whole lemon, not half. But it is still missing something. I think next time I'll try adding oregano as the other reviewer suggested. If we hadn't been comparing this hummus to a roasted red pepper hummus I had just made, I think this would have been delicious. But comparably speaking ... this one is lacking something. I just haven't figured out what yet.
In a food processor, puree the chickpeas and garlic. Add the olive oil, tahini, and lemon juice, and process until smooth, adding more liquid (either the liquid from the can of chickpeas or some water) if necessary.
Add the spinach, and pulse a few times, until it is incorporated but not pureed.
Transfer to a bowl and stir in the artichoke hearts by hand.
Serve with fresh pita chips!