karen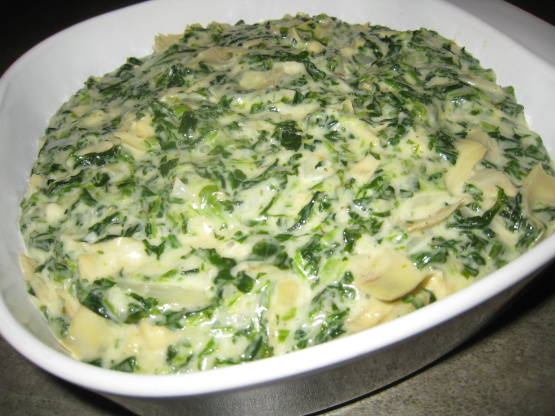 I love spinach and cheese, and this version of spinach artichoke dip is easy enough for anyone to make.

Five stars for a combination of great taste and simplicity! I left out the onions (don't care for them), otherwise made as directed. So easy to make :) Topped with a little grated parmesan and served with tortilla chips - terrific - thanks for sharing your recipe!
Microwave the spinach for 4-5 minutes until completly thawed but do not drain liquid.
In a large skillet over medium-high heat, cook onion and garlic in oil. Stir frequently until translucent, approximately 5 minutes.
Stir in flour and cook 1 minute.
Stir in spinach, artichoke hearts, cheeses and pepper. Stir constantly until cheeses melt.
Serve warm with raw vegetables or tortilla chips.
To keep warm, transfer to oven safe serving dish and place in 250 degree oven until ready to serve.