Spinach-Artichoke Cheesy Tortellini

This is from Rachael Ray, and oh soooo good!! Like having artichoke dip in a pasta. My son even ate his on top of toasted french bread!
Directions
Heat a deep skillet over medium heat with the oil and butter.
When butter melts, add garlic and grated onion. Saute for 5 minutes.
Sprinkle the flour into the skillet and cook for 1 minute.
Whisk in the broth, then the cream and bring to a bubble.
Season the sauce with nutmeg and reduce heat to low.
Separate spinach into pieces as you add it to the sauce.
Stir in the artichokes and cheese and season to taste with salt and pepper.
Cook the tortellini in salted boiling water according to package directions, about 7 minutes.
Drain and toss with the spinach artichoke sauce.
Serve immediately with additional grated cheese and diced tomatoes, if desired.
Most Helpful
Oh, wow! This was so incredibly delicious! We stuffed ourselves on it--we just couldn't resist another bite and then another and another. It tastes like a cross between spinach dip and artichoke dip--with noodles and lots of cheese. The only changes I made were to emit the salt, use half & half instead of heavy cream, finely chop the onions instead of grating them, and replace the butter with more olive oil. This is definitely a keeper! Thank you, thank you, THANK YOU, Charmie777!! Update: We've tried this now using lowfat evaporated milk instead of cream, and it was still wonderful--and less guilt-ridden, too! Thanks again!
This was certainly very easy to put together! I made this exactly as posted, using romano cheese. However, I still thought it could have used a little something more. In reheating it, I added some sliced grilled chicken. Made for ZWT6.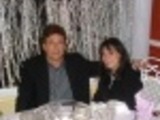 Easy to make and fabulous-tasting, we loved this pasta! The winning combination of ingredients in this dish is really scrumptious. Rich but worth the calories on special occasions or just because ~ Sometimes you've gotta splurge and I'd recommmend splurging with this recipe!