Annacia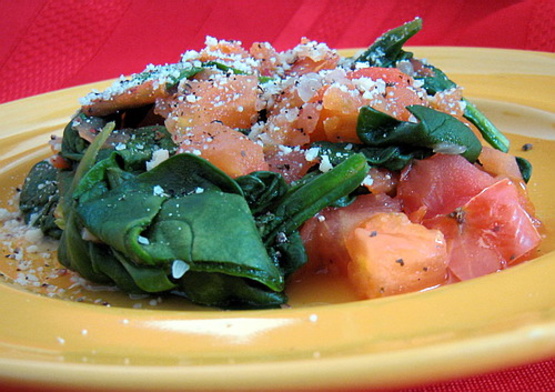 A taste match made in heaven -- and easy on the budget as well. Easy to double or halve according to your family size. Sometimes we put it over pasta or rice, sometimes we put it in a bowl to dip our bread. Adding some cooked chicken or Italian sausage turns it into a full meal. You could even use it as pizza topping.

This was actually very delicious. I made a few changes, though. I used Rotel tomatoes with green chiles as it was all I had. Also, I added garlic when in addition to other herbs. I combined this with brown rice seasoned with garlic and parsley and served it as a side dish to baked fish. I will definitely be making this again.
Combine spinach, tomatoes, onion and herbs in a small saucepan.
Heat to boiling then simmer 7-10 minutes or until onions are cooked.
Serve, passing parmesan and vinegar at the table for each person to add as they prefer.