Spinach and Tomato Crescent Bread
WiGal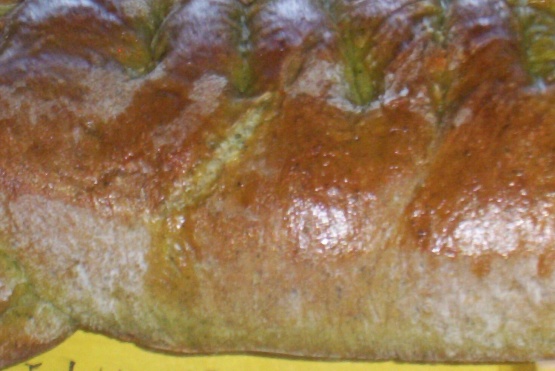 Festive and flavorful, this appealing loaf makes a welcome contribution to a holiday buffet table. Prep time includes rising time.

Top Review by WiGal
Delicious and moist. I love the combination of spinach, red pepper, and tomato! Because there are only two of us, I divided the dough in 2, and rolled out 2 rectangles, split the pesto mixture between the two, and then brought up the sides and ends and flipped it upside down. I also cut slits prior to final rising. I baked both loaves on the same sheet at 350 degrees for about 25 minutes. Then I froze the second loaf. Thanks Sharon123 for sharing. Made for 1-2-3 Hit Wonder game.
Prepare Dough: in 1-quart saucepan, heat milk until bubbles appear around side of pan; remove from heat and stir in spinach, parsley, and olive oil.
Pour milk mixture into food processor fitted with chopping blade; process 1 minute.
Set mixture aside to cool to 120* to 130*F.
In large bowl, combine 2 1/2 cups flour, the sugar, yeast, and salt.
With wooden spoon, beat milk mixture into flour mixture until soft dough forms.
Turn dough out onto floured surface.
Knead dough, adding remaining flour as necessary to prevent stickiness, until smooth and elastic-about 5 minutes.
Wash, dry, and lightly oil mixing bowl.
Place dough in oiled bowl, turning to bring oiled side up.
Cover and let dough rise in warm place, away from drafts, until doubled in size-about 50 minutes.
Meanwhile, prepare Tomato-Pepper Spread: In food processor fitted with chopping blade, process, tomatoes,roasted peppers,pine nuts,and garlic 30 seconds or until coarsely pureed.
Lightly grease a large baking sheet and set aside.
With floured rolling pin, roll out dough into an 18-by 12-inch rectangle.
With rubber spatula, spread Tomato-Pepper Spread evenly over dough, leaving a 1/2-inch border.
Roll up rectangle into a 12-inch long log.
Transfer log, seam side down, to greased baking sheet; curve into a crescent.
Cover loaf with clean cloth and let rest 20 minutes.
Heat oven to 350*F.
Make Egg Wash: In small bowl, beat together egg and water.
With sharp knife, make 13 deep cuts, about 1 1/2 inches apart, around top of bread.
Brush bread with Egg Wash and bake 30 to 35 minutes or until well browned.
Cool bread completely on wire rack before serving.
(If desired, the bread can be baked, cooled, wrapped in plastic wrap, and frozen for up to 2 weeks.) Enjoy!