Spinach and Strawberry Salad with Honey Mustard Vinaigrette

Colorful and healthy, this wonderful mix of flavors looks beautiful and is easy to put together. Originally from a local paper's cooking section featuring strawberries.
Salad

6 cups Baby Spinach, washed and thoroughly dried (or use the bagged spinach)
1 1⁄2 cups sliced strawberries
1 tablespoon hulled sunflower seeds
1 small red onion, thinly sliced
enoki mushrooms (optional)

Dressing

1 tablespoon seasoned rice wine vinegar
2 tablespoons honey
2 teaspoons Dijon mustard
salt & freshly ground black pepper
Directions
Salad: Place spinach in a large bowl.
Add strawberries, sunflower seeds, and onions.
Pour dressing over salad;toss to combine.
Serve, garnished with enoki mushrooms, if desired.
Dressing: In a small bowl,whisk all ingredients together.
Most Helpful
We really enjoyed this salad. I made it twice. The first time I used a honey mustard - that did not work well. The second time I used Hickory Farms' Sweet-Hot mustard in the dressing. It turned out very good!! I thought the sunflower seeds were a nice addition to this salad, also.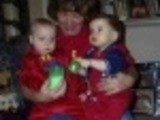 A very good light salad. I used pine nuts insted of the sunflower seeds. To our taste the dressing was too sweet. I ended up using equal amounts rice wine vinegar and honey and also added a teaspoon of extra mustard.