Spinach and Spaghetti Casserole
flower7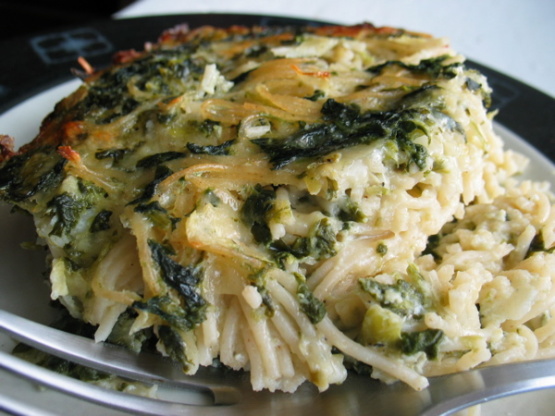 I never liked Spinach til I had to try this recipe at my sister-n-laws and from than on I made this casserole for special dinners I either attended or made for supper at home. Its a favorite to many of my friends and family and I thought I would share with everyone here at Recipezaar. Hope you like it too!

I thought this recipe was great as-is; the lack of "cream of" soups is one of the reasons I wanted to make it. I used whole-wheat pasta, low-fat sour cream, skim milk, added some garlic, and I used a handful of parmesan (& then more at the table). We didn't find this dry at all. It's not saucy, but the casserole was moist & flavorful. The only change I'd make is to saute the onions first - they weren't quite cooked all the way and were pretty strong. But, DH & I both enjoyed this, and it also reheats really well.
Preheat oven to 350'.
Cook Spinach and drain well.
Cook Angel hair spaghetti according to package and drain well.
Combine egg, sour cream, milk, Parmesan cheese, chopped onion, salt, black pepper, and Montery Jack cheese in a large bowl.
Stir well to combine Add cooked/drained Spaghetti and Spinach (while hot) to mixture and mix well.
Grease lightly a casserole dish and spread mixture into dish.
Cover casserole dish and bake for 15 minutes than take out of oven and uncover and bake for 45 minutes longer in oven or until lightly browned.