Spinach and Ricotta Tortellini With Ricotta and Herb Sauce
katew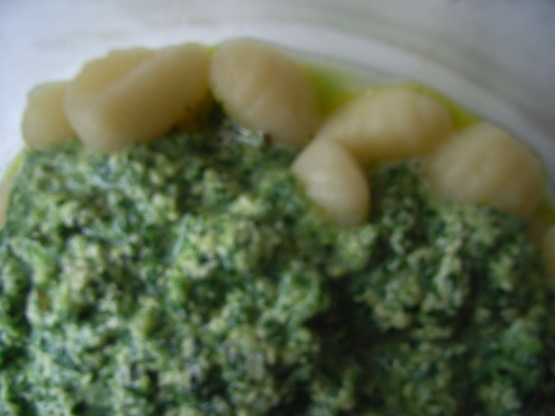 This is a very quick pasta dish to make that tastes great and makes for a great mid week meal. My son and hubby love this dish, as do I because I can have it on the table in about 20-25 Minutes, which for me is great, when you get in late and do not want to fuss in the kitchen all night.

Top Review by katew
We enjoyed this for dinner tonight. It was incredibly easy to put together. I served the sauce over gnocchi. I added a small handful of spinach to sauce and doubled the parsley too - both fresh from the garden . It makes a magnificent creamy sauce. Very versatile too.
Boil some salted water add tortellini, cook until just soft (al dente), drain.
Heat oil in a pan, add onion and garlic, cook until onion softens, add wine, cook until almost evaporated, add cream, ricotta and gruyere, stir until cheese melts.
Stir in herbs and season with pepper, return pasta to pan, toss to coat in sauce and heat through. If sauce is a little thick just add a little water or extra cream.
Serve immediately sprinkle with extra chives and grated Parmesan if desired.