Jackshoe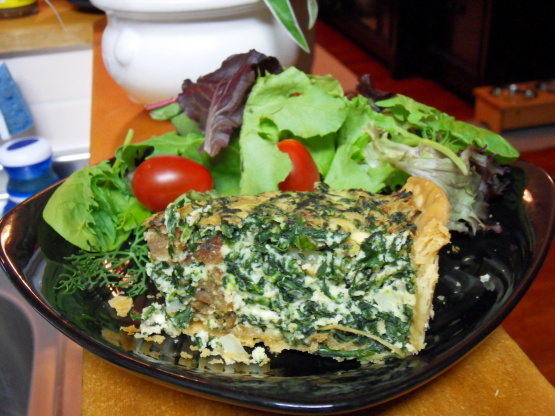 Rich and scrumptious, this is a great brunch dish as well as any other meal! Fairly simple to make. I prefer chopped FRESH spinach but I am posting this recipe as it was given to me. Also, I add feta or Montrachet cheese sometimes if I have it on hand.

Top Review by ChoCho
Hubby says it's amazing! I've made this many times now and we can't get enough. Once, I used frozen spinach with cooked chopped italian sausage. Another time, I've used fresh chopped spinach with chopped deli ham, and another with other veggies. I always leave out the nutmeg as I am not a fan. Such a great recipe. Thanks so much!
Preheat oven to 400 degrees. Prick pie shell (9" pie pan) and prebake in hot oven for 5-8 minutes until lightly browned. Turn oven down to 350 degrees when pie crust is done.
Cook spinach until thawed and warm. Drain very well, squeezing excess moisture out with hands. (Do not precook spinach if using fresh).
Saute onion in butter and stir in spinach, salt, nutmeg and black pepper.
In separate bowl, combine Ricotta cheese, cream Parmesan cheese and eggs and blend well.
Add spinach mixture and stir well.
Pour into prebaked pie shell and bake at 350 degrees for 50 minutes or until custard is set.
Garnish with finely chopped parsley and sliced cherry tomatoes if desired.
May be served hot or room temperature.