Spinach and Rice Casserole
berry271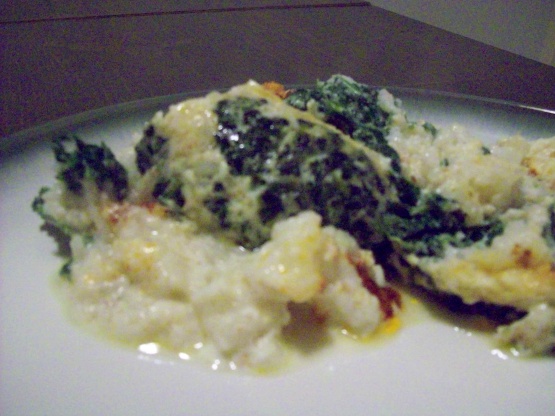 Even if you don't care for spinach...you gotta love this!...just forget about eating any meat or chicken, all you will want is this yummy spinach/rice dish.(prep time includes cooking the rice)

This was good, but not as good as I was expecting, and in my opinion, not good enough to be worth all the calories and fat (and I'm not a calorie counter, by far). I served this on a Saturday night with crab cakes. In the future I will probably save this recipes for holiday meals. It seems like something that would be nice then. I also will reduce the amount of butter and cream sauce as most of the flavor seemed to come from the feta and onion anyway.
Set oven to 350 degrees.
Grease a 13" x 9" baking pan.
Cook 1-1/2 cups rice according to directions; set aside.
In a heavy-bottomed saucepan, melt 1 cup butter; add in flour, stir until thoroughly mixed (about 2 minutes), allow to cool slightly.
In the microwave, heat the half and half until just to boiling or to a"simmer" (I do this in the microwave so that the milk doesn't scald bottom of pot, but you could simmer it in the pot, just watch not to burn bottom of pot!).
Pour in the simmering half and half into a saucepan.
Add flour mixture into the milk mixture a little at a time, whisking to break up all the lumps.
Then whisk in the eggs, until creamy and smooth (about 10-15 minutes).
Place the cooked and drained spinach in bottom of casserole dish.
Add rice, Feta cheese and green onions spreading evenly over spinach.
Sprinkle with salt and pepper to taste.
Pour the cream sauce over the top.
Sprinkle with Parmesan cheese and paprika.
Bake for 20-25 minutes.