Spinach and Potato Frittata
PaulaG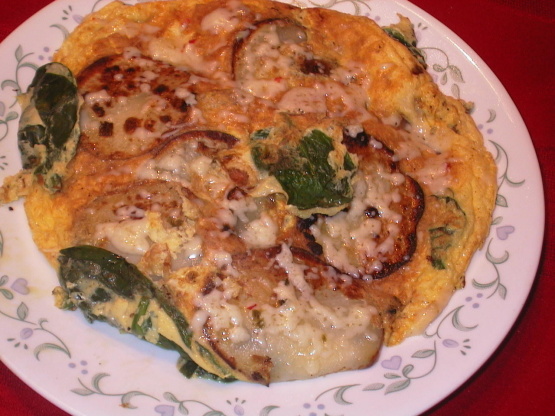 Great for breakfast or brunch as well as a light dinner.
Delicious! I made this for a use up fridge store before heading on vacation lunch. I didn't expect it to be quite so good, but it was really really tasty. I made pretty much as stated and will be making again. Thanks for a great and healthy meal!
Heat olive oil in a medium skillet over medium heat.
Place potatoes in the skillet, cover and cook about 10 minutes until tender but firm.
Mix in spinach, green onions and garlic.
Season with salt and pepper.
Continue cooking 1 to 2 minutes, until spinach is wilted.
In a medium bowl, beat eggs and milk.
Pour into skillet over the vegetables.
Sprinkle with cheddar cheese.
Reduce heat to low.
Cover.
Cook 5 to 7 more minutes or until eggs are firm.
Cut into wedges and serve.