Rita1652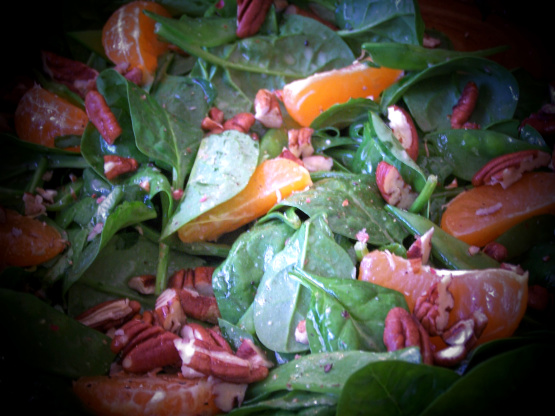 A low calorie, low fat, delicious and refreshing salad with a citrus dressing which was with a recipe for orange-glazed pork cutlets. I haven't posted the pork cutlets part of the recipe (just zmail me if you want it). I found this in The Australian Women's Weekly's 'SLIM: low-fat eating for life', and I'm posting it for the Healthy for the Holidays Challenge.

We really enjoyed this citrusy mix! I loved the dijon as it gives a pleasant aroma to the salad. I made the dressing as directed and had plenty to spread out over three salads. Just what we were looking for tonight! Thanks!
Combine the baby spinach leaves, nuts and snow peas in a large bowl.
Segment the peeled orange over the salad so that none of the juice from the orange is lost; add the orange segments to the bowl.
Place the citrus dressing ingredients in a screw-top jar, shake well, pour over the salad and toss gently to combine.