GaylaJ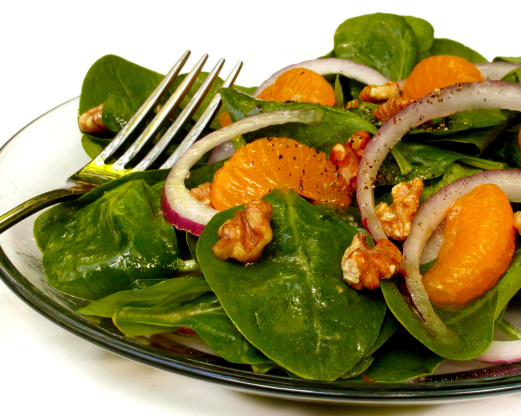 Samples of this salad were served by the H.E.B. grocery store chef this weekend. Delicious. Light and refreshing. This recipe represents California cuisine.

One of the better spinach and orange salad's we've tried. The walnuts really make it. I left the honey out (diabetic), it was delicious anyway. I made the whole recipe, there are only two of us!! We pigged out on half of it on Fri. night and on Sat. night I stir fried the other half, very quickly, just enough to heat through, it was wonderful. The only thing I changed was the orange juice, had no concentrate, so used fresh.Thanks for sharing.
Preheat oven to 350.
Toast walnuts on a small baking sheetfor 6- 8 minutes, or until lightly browned.
Slice red onion; cut slices in half and separate rings.
Whisk dressing ingredients together in a small bowl.
Combine spinach, oranges and red onion in a large bowl.
Toss with dressing and season to taste with salt and ground pepper.
Sprinkle with toasted walnuts and serve.