Spinach and Onion Couscous
GaylaJ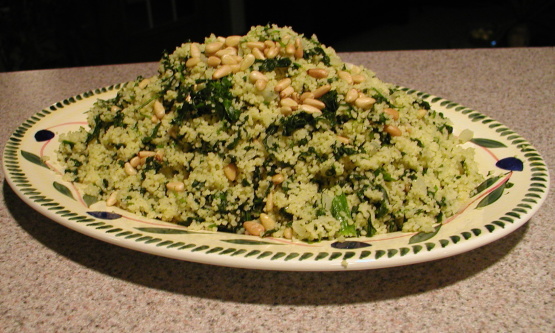 Colorful and a delicious side dish or main dish.

I love couscous and was excited to try a new version. I'm glad I did, because this is delicious.
I did make some changes - extra clove of garlic, vege stock instead of chicken, fresh baby spinach, pine nuts instead of pecans and I added some fresh basil at the end.
Delicious :)
In a saucepan, cook and stir onion and garlic in hot oil until tender.
Add the broth and spinach; cook and stir frequently until the spinach thaws.
Bring mixture to a boil and stir occasionally.
Add in couscous; stir to combine.
Cover, remove pan from heat, and let stand 5 minutes or until liquid is absorbed.
Add remaining ingredients; stir to combine.
Serve immediately.