Spinach and Mushroom Tofu Quiche
Prose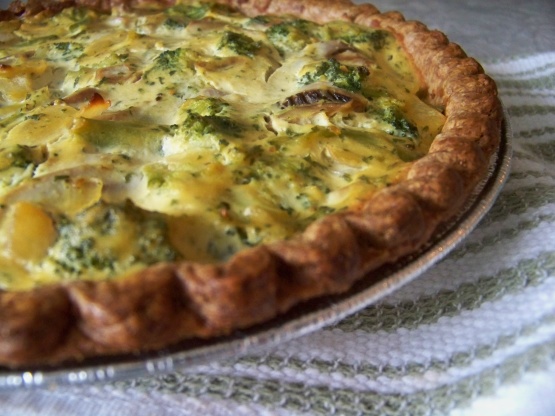 I have a question about step #3 in the cooking directions. It sates the following: In a large bowl combine tofu mixture with broccoli mixture. Pour into pie crust. There is no broccoli in this recipe.

Top Review by Prose
This really satisfied my craving for quiche! I thought the texture was pretty darn close to non-vegan quiche. Two of my non-vegan friends really liked it too. I used two 10-ounce boxes of extra-firm silken tofu and reduced the soy milk to just a splash. I used thawed frozen spinach and didn't borrow to steam it. I used extra mustard and red pepper and added two tablespoons of nutritional yeast and a generous splash of Braggs liquid aminos to the tofu mixture. I ended up having too much filling even though I used a deep-dish pie crust, but I'm sure I'll find something to do with the excess. I was going to add pine nuts, but I forgot because I was in a hurry. It was yummy anyway, but it would be good with them too. Kalamata olives would also be good. Anyway, I totally devoured this, and I will definitely make it again. It was a hit.
Preheat oven to 400 degrees F. Bake pie crust in preheated oven for 10 to 12 minutes.
Heat oil in a large skillet over medium-high heat. Saute spinach, onion, garlic, and mushrooms until golden.
In a blender combine tofu, soy milk, mustard, salt, nutmeg, ground red pepper, black pepper, and parsley; process until smooth. In a large bowl combine tofu mixture with broccoli mixture (THERE IS NO BROCCOLI IN THIS RECIPE!). Pour into pie crust.
Bake in preheated oven for 35 to 40 minutes, or until quiche is set. Allow to stand for 5 minutes before cutting.