Spinach and Mushroom Alfredo Sauce
Boomette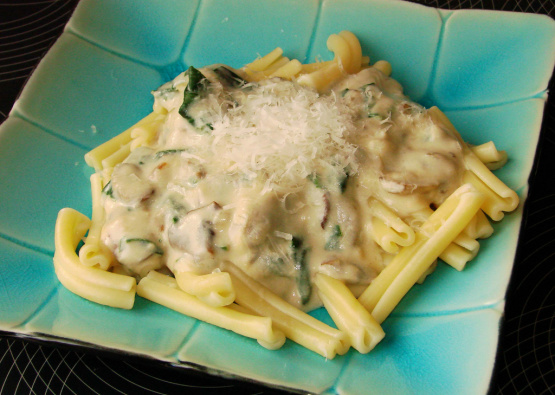 This sauce is great served over any pasta or use it to make a lasagna.
I made half the recipe. And it gives a lot. At least 8 servings (and maybe more) for half the recipe. I used less spinach and didn't blanch them. My son of 6 years old liked this a lot. He had the choice to have this for his lunch today or pasta with spaghetti sauce and he chose your recipe. Thanks Maria :) Made for Bargain Basement tag game
Melt the butter in a large saucepan over medium heat. Add the mushrooms and cook, stirring often until the mushrooms are browned and most of the liquid has evaporated, about 5 to 7 minutes.
Add the onions and garlic to the pan and saute until soft and translucent, 3 to 4 minutes.
Add the flour and cook, stirring with a wooden spoon, to make a light roux, about 2 minutes. Whisking constantly, slowly add the milk and continue to cook, stirring occasionally until thickened, 5 minutes.
Add the salt, pepper, nutmeg, spinach and 1 1/2 cups of the Parmesan and cook, stirring, until thickened, about 2 minutes.