Spinach and Lemon Rice Pilaf
Derf2440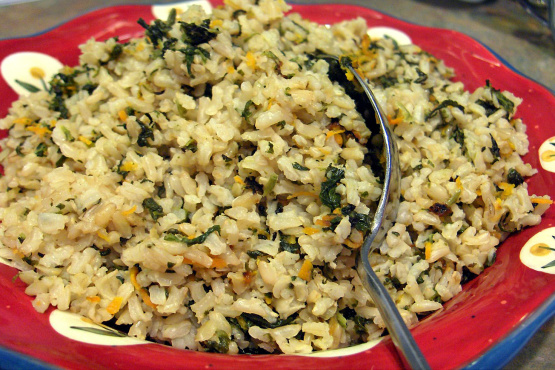 Great side dish for roast or grilled chicken, grilled steak or fish. The vegetables and lemon give a wonderful fresh garden taste. You can vary the amounts of the veggies to your taste. I use just a little more rice to stock than usual as I prefer a slightly drier pilaf.

This rice pilaf is just excellant! we love it , it had a lot of flavour with the carrots, spinach and lemon and a nice presentation colour. Since i used canned chicken stock I did not add salt, I used brown rice and olive oil instead of butter, had to leave the green onion out had none in. i made a full recipe because i love having rice in the freezer ready to reheat on a busy night, glad I did, it is some of the best I've made. Oh almost forgot I used frozen spinach well dried in paper towel, worked very well. I will be making this again, thanks for posting.
Bring the stock to a boil, add rice, reduce heat to low and simmer till done. (About 40 minutes).
Melt the butter in a frying pan, add spinach, carrot and green onions, saute over medium low heat till spinach is wilted and vegetables softened, about 2 minutes.
Stir vegetable mixture and lemon juice into hot cooked rice, fluff with fork and serve.