Spinach and Feta Pita Bake
loof751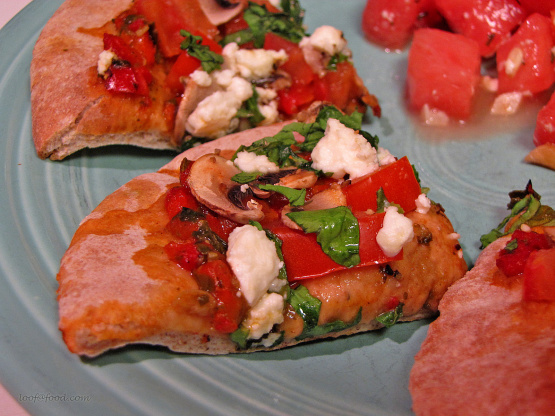 This is great as a party appetizer or a full meal. Tasty, full of flavor AND good for you. The crunchy crust is what I really like! You can play with the veggie toppings and cheeses for a great meal that is fast and delicious! Our favorite quick meal!
I made this as an appetizer to our Greek meal this evening. I LOVE this recipe ! I can't have pita as I'm allergic to wheat so I used a simple slice of white GF bread and I couldn't made two or three and made it as a meal. DH really enjoyed his on a pita as a nice light, after work snack. Thanks for a lunch/snack recipe I'll be turning to often, EK ! Made during ZWT#9 for my team, Tasty Testers :)
Preheat the oven to 350ºF (175ºC).
Spread tomato pesto onto one side of each pita bread, and place them pesto side up on a baking sheet. Top with tomatoes, spinach, mushrooms, feta cheese, and Parmesan cheese. Drizzle with olive oil and season with pepper.
Bake for 12 minutes in the preheated oven or until pita breads are crisp. Cut into quarters and serve.