Spinach and Feta Mushrooms
Bergy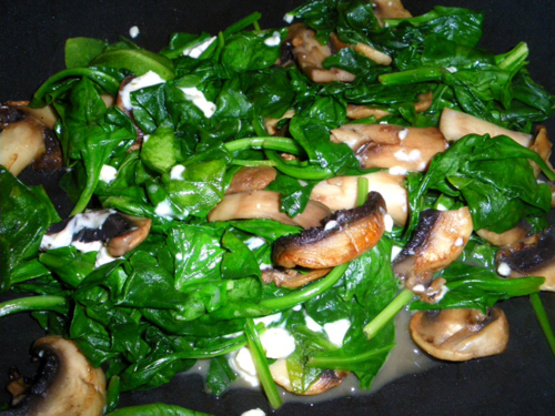 These make a really nice vegetarian starter (leave out the cheese and butter for a vegan) and are great finger food if you use about 18 smaller mushrooms. Add a couple of crispy, cooked, crumbled bacon slices too, if you wish.
Cook the damp spinach in a large pan for about 2 minutes-or until it has wilted.
Drain really well, and chop coarsely.
Mix the crumbled feta through the spinach.
Preheat the broiler to medium.
Place the mushrooms gill side up on a lightly greased baking sheet.
Season and drizzle over a little oil.
Grill for 4-5 minutes or until tender.
Melt the butter in a frying pan and cook the onion until golden.
Stir in the spinach mixture and season to taste.
Spoon the mix into the mushroom cups, sprinkle with a little shredded Parmesan and grill until it's golden.