Nif_H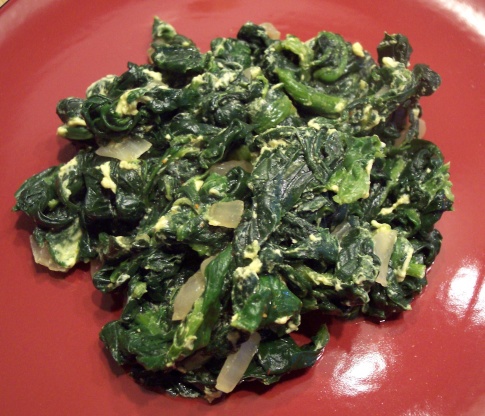 This is something that my Nee used to cook as a quick side dish. Don't be afraid, it really is a good dish despite the weird combination of ingredients.

Top Review by Nif_H
Absolutely yummy breakfast today!!! I made 1/4 of the recipe and threw this together in no time. I used egg substitute because I needed 1/2 an egg (plus it's nice to cut back on the fat) and everything else as listed. The combination of flavours was perfect and I can see myself having this for breakfast a lot! Made for Football Tag. Thanks Sherrybeth! :)
In a large skillet, saute your onion in the butter until translucent.
Dump the frozen spinach into the skillet with the onion and add the 1/4 cup water. Cover and cook on medium heat, stirring occasionally to keep the spinach from sticking.
Once the spinach is wilted and appears done, pour in the 2 eggs which have been whisked well.
Stir continually until the egg turns white and the spinach appears "dry", but make sure not to overcook.
Sprinkle with seasoned salt (to taste) immediately before serving.