Spinach and Cream Cheese Enchiladas
aylett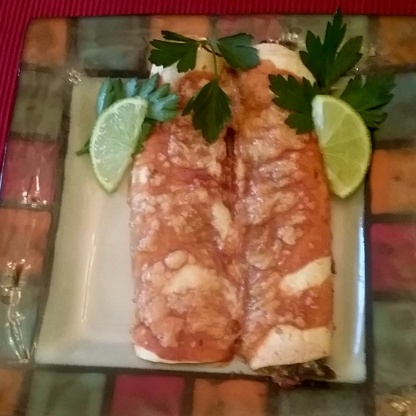 I created this recipe by trying to recreate these great enchiladas I had at LaFrontera in Salida, Co. They are a yummy vegetarian main course and also make a good side dish.

I used flour tortillas and thought these were great! I did add some spice to it by adding about 2-3 TBSP of jarred sliced jalepenos to the enchilada sauce/sour cream mixture adn used the new Sargento Spicy Mexican Cheese in the filling! It was great! I think you could easily shred two chix breasts into this or use a pre done rotisserie chicken in the filling!
Mix spinach, garlic, green onions, cream cheese, and monterey jack cheese in large bowl.
Place approximately 3 tbsp of spinach mixture into the center of each tortilla and roll them up.
Place filled tortillas side by side seam side down in casserole dish.
Bake at 350 degrees for approximately 30 minutes.
Meanwhile mix enchilada sauce and sour cream in small saucepan simmer over low to medium heat stirring frequently.
Cover with Shredded Pepper Jack cheese and return to oven until cheese is melted and bubbly.
Remove enchiladas from oven and cover with sauce mixture serve immediately.