Spinach and Chickpeas With Couscous
JustJanS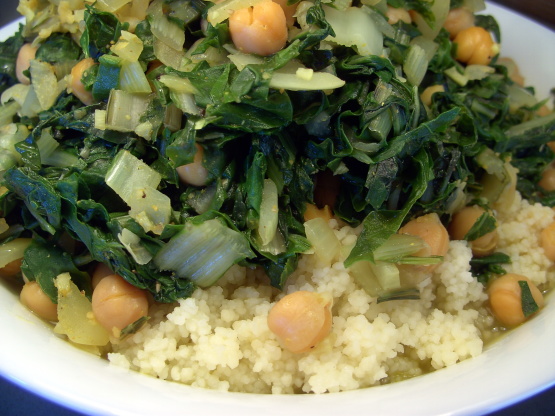 I saw this in "500 (Practically) Fat-Free One-Pot Recipes" cookbook from the library. I haven't tried it yet.

We both really enjoyed this. I served it as a side to lamb chops and decided the 2 cups of liquid in the spinach mix looked too much, so reduced that to just one-I think it was perfect. IOur lamb chops were mint flavoured and the couscous curryish, so I made a yogurt and mint sauce to go over all. That was also good-otherwise I think a good squeeze of lemon would be good over it.
Heat 1/4 cup broth in a large saucepan. Add onion, garlic and curry powder and saute until onion begins to soften, about 4 minutes.
Add remaining broth and spinach. Bring to a boil, reduce heat and simmer for 10 minutes. Stir in chickpeas and black pepper, continue simmering until spinach is tender and chickpeas are heated through.
Pour boiling water over couscous, cover and let stand for 5 minutes.
Divide couscous among bowls.
Serve spinach-chickpea mixture over couscous.