Spinach and Chickpea Curry
Parsley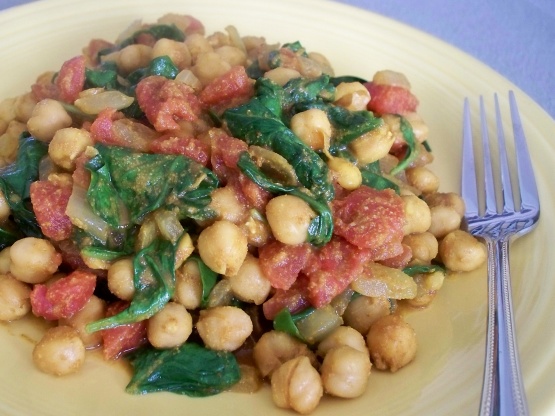 A very easy curry which doesn't take a lot of effort to prepare. It is low GI so will leave you feeling fuller for longer. It is quite a dry curry when made, I like to serve it over brown rice and then the next day eat the remainder cold wrapped in a chapatti with some sour cream.

This recipe has become a regular in our house. So tasty, easy, healthy, what else can I ask for? The lemon juice adds a brightness - don't leave it out. A coworker from India was really impressed when I brought the leftovers for lunch - she said it smelled and tasted just like traditional curries.
Heat the oil and gently fry the onions for 10 minutes.
Add the spices, stir well and cook for a further 2 minutes.
Add tomatoes and chickpeas and simmer for 25 minutes.
Increase the heat and stir in the spinach and lemon juice.
When the spinach has wilted - serve.