Alskann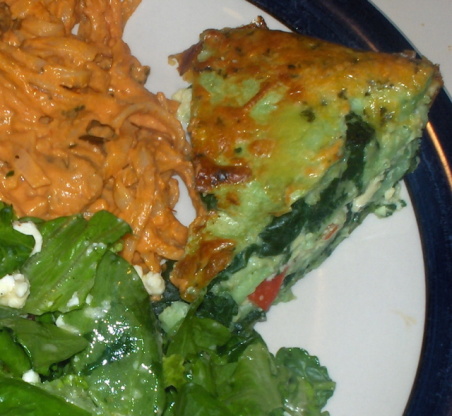 Spinach, cheese, and roasted red peppers--what could be yummier? ZWT 3: Mexican/SW/Tex-Mex (cheeses and tortillas)

This was really terrific, TRUE! I did use roasted peppers in a jar too! HOWEVER, drained, ran under water and in paper towel I did drain, While listening to the weather outside which was RAIN! Don't think it distracted from taste to me! Thank you! Glad this recipe I did see!
Preheat the oven to 350.
Spray a 9-in round cake pan with cooking spray.
Put the spinach in a large microwavable bowl; cover with plastic wrap and prick several holes in the plastic.
Microwave on high until the spinach starts to wilt, about 2 minutes.
Let stand until the spinach wilts completely, about 5 minutes.
Uncover and let cool.
Squeeze the spinach to remove the excess liquid; chop coarsely.
Meanwhile, put the eggs, egg white, cheese, milk, cilantro or parsley (if using), salt, and ground pepper in a bowl, beating with a whisk to combine.
To assemble the torta, place 1 tortilla in the bottom of the pan. Layer with half the spinach, 1 tortilla, then the roasted peppers.
Top with 1 tortilla and the remaining spinach and tortilla. Pour the egg mixture over the top.
Bake about 20 minutes or until firm.
Remove the torta from the oven and increase the heat to broil.
Broil 5 inches from heat until just browned on the top, about 1 minute.
Let stand 5 minutes before inverting the torta on a cutting board and slicing into 4 wedges.