Spinach and Cheese Squares
Thorsten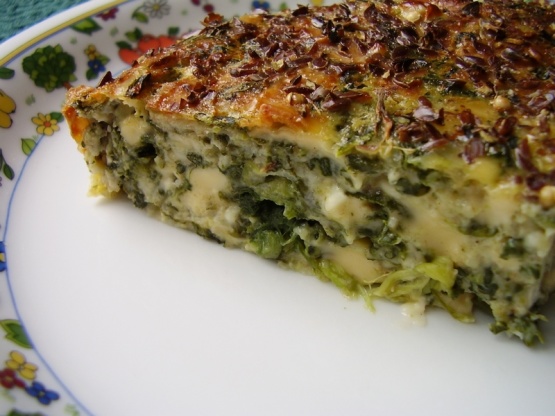 A really tasty snack dish from the American Diabetes Association. I used flax seed instead of the wheat germ, but that's the way the recipe was written.

I added boursin cheese to this recipe and it made it so good that everyone in my family scarfed it down so fast that they couldn't even wait for it to cool down and kept burning their mouths that's how good it was! For four entree size servings I used 4 eggs, 5 1/2 tbsp wheat flour, 10 oz spinach, 2 cups cottage cheese, 1/2 cup cheddar, dash pepper, dash nutmeg, dash salt (my addition), 2 tbsp boursin cheese (my addition), and I omitted the cayenne and wheat germ. This recipe is now a staple in our home.
In a large bowl beat the eggs with the flour until the mixture is smooth.
Add the spinach, cheeses, cayenne and nutmeg, and mix the ingredients will. Pour mixture into a nonstick coated 13/9/2-inch baking pan.
Sprinkle the top with wheat germ and bake at 350 degrees F. for about 45 minutes.
Let stand for about 10 minutes and then cut into 1 1/2 inch squares for serving.