Spinach and Cheese Mashed Potatoes
2Bleu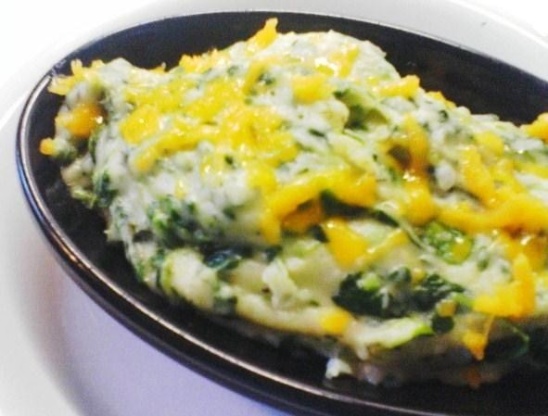 An Amish dish that is America's Midwestern comfort food at its very best. BF made this for supper with a few low fat substitutions and extra cheese:D Oh so fluffy potatoes with a chewy cheese crust. Make your kids love spinach! Yum! From Lehman's 50th Anniversary Cookbook (2005) based in northeast Ohio.

I%u2019ve made this several times, always omitting the chives as a personal preference. My family likes them better with the cheese just stirred into the potatoes. We find baking overcooks the spinach and leads to a slightly bitter taste. When using fresh spinach, I barely wilt it in a little bit of bacon grease before mixing it with the potatoes %u2013 YUMMO!
Preheat oven to 400 degrees Fahrenheit.
Peel and cook potatoes (slice 1/2-3/4 inch thick and boil for about 15 minutes) and put through ricer.
Add salt, pepper, yogurt or sour cream, milk and butter (if using) to potatoes. Beat well until fluffy.
Fold in spinach, chives and dill (if using).
Place in lightly greased 8x8 casserole dish or loaf dish, top with cheddar cheese and bake 25-30 minutes or until cheese is browned.
Recipe can be prepared a day ahead before final bake.