dojemi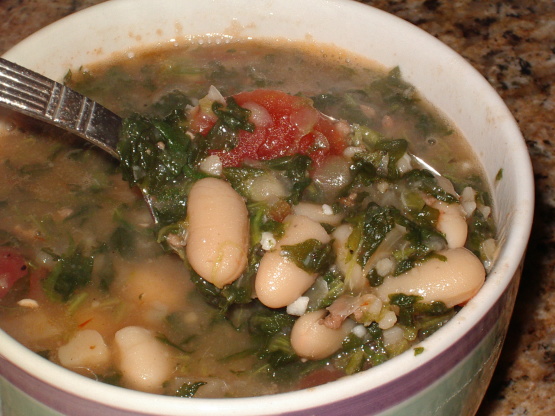 I just found this recipe in my already expanding collection. It's from another web site, that much I remember, just don't recall which one. I made it for the first time last night and it was delicious. For the herbs I used only fresh basil, mainly because that's the only fresh herb I had handy. I'm sure dried would work just as well.

I saut?ed chopped onion in olive oil then added two big, chopped cloves of garlic for about 30 seconds, and added tomato paste (instead of canned tomatoes) followed by broth. It was so delicous! I didn't even need to add the herbs. Pureeing some of the beans gives the soup a wonderful, rich texture. I didn't even bother cooking it for the whole 20 minutes, it didn't need it.
Saute' garlic in oil.
Add tomatoes, one can of the beans (undrained), salt, pepper and the broth.
Bring to a boil.
Meanwhile, puree' the second can of beans in a blender.
Add to the tomato/bean mixture. Stir to blend well.
Add the spinach, stir to blend.
Return to boiling.
Turn heat down and simmer for 15 to 20 minutes.
Add herb of choice (oregano and basil make a great combo, to taste.
Simmer 5 minutes.
Serve.