Geema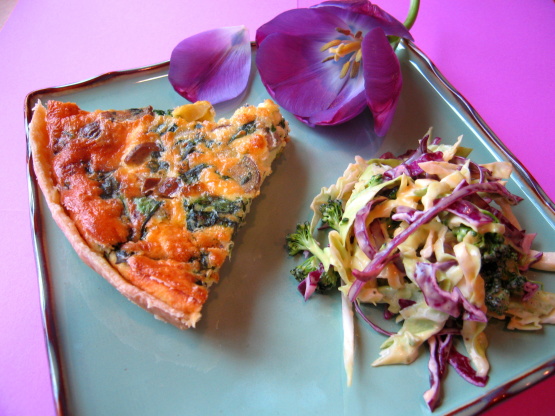 An easy and delicious quiche. This comes courtesy of Paula Deen & her show on Televion Food Network, 2003.

This is very good. according to the reviews on the original site for this recipe it makes enough for 2 pies. I used 2 % milk instead of heavy cream as I don't like heavy rich food. And instead of Swiss I used Monterrey jack cheese. I purchased some honey baked ham and sauteed that and used that in place of the bacon. I don't like Swiss cheese. I used Recipe # 398725 Grandma Lyna's Best Pie Crust I have never had a pie crust that was as tender. For this pie crust I omitted sugar and added 1/2 tsp onion powder and 1/2 tsp garlic powder. Yum -- - - -
Preheat the oven to 375°F.
Combine the eggs, cream, salt and pepper in food processor or blender.
Layer the spinach, bacon and cheese in the bottom of the pie crust.
The pour egg mixture on top.
Bake for 35-40 minutes until the egg mixture is set.
Cut into 8 wedges and serve.