Spinach and Bacon Pasta Toss
Cuistot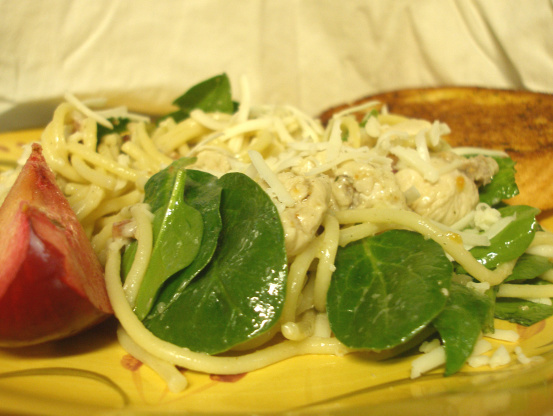 I got this recipe off a Kraft calendar. I made a few alterations and we think it's really good. Simple enough for a weeknight and pretty enough for guests.

YUM! This was a great dish. I'm used to more "sauce" with my noodles so I was a little apprehensive with this dish but was pleasantly surprised. This is a light, easy dinner that really could be a one-dish meal. This was so easy in fact that dh made it all by himself! I think mushrooms would be great with this, but dh doesn't eat "fungus".
Cook noodles as directed on the package, drain reserving 1/2 cup of the cooking water. *i also like to use linguini noodles instead of the egg noodles*.
Heat dressing in large skillet over medium heat, add chicken, onion and pepper flakes. Cook until the chicken in cooked through and the onions are tender, stirring occasionally.
Stir in noodles and reserved cooking liquid, remove from heat.
Add spinach, half the cheese, and bacon, toss together.
Top with remaining cheese to serve.