Spinach and Artichokes in Puff Pastry
Margie99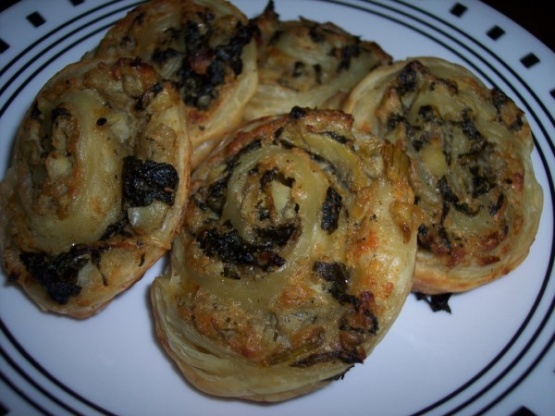 This is a easy and tasty appetizer from the Complete Southern Cookbook. *See note about making ahead* **freeze time not included**

I liked the flavor of it a lot. I froze it for a week or so. When I thawed it, it had a greenish oil oozing from it. I baked it as directed and they tasted great, they didn't slice really pretty like I am sure they would have if I had made them right away. Overall, good stuff.
Drain the spinach well, pressing between layers of paper towels to remove the excess moisture. In a large bowl, stir together the spinach, artichoke hearts, mayonnaise, cheese, onion powder, garlic powder, and pepper.
Unfold the pastry sheets and spread half the spinach mixture evenly over each sheet, leaving a 1/4 inch border. Roll up jelly-roll style, pressing to seal the seams.
Wrap in plastic wrap and freeze 25 minutes. Meanwhile, preheat the oven to 400 F and lightly grease 2 baking sheets. Cut the rolls into 1/2 inch thick slices and place on the prepared baking shees. Bake 20 minutes, or until golden brown.
Serve warm.
*Note* Uncut tolls may be frozen up to three months. Thaw overnight in the refrigerator before proceeding to bake and serve.