Spinach and Artichoke Pie - Ww Core
awalde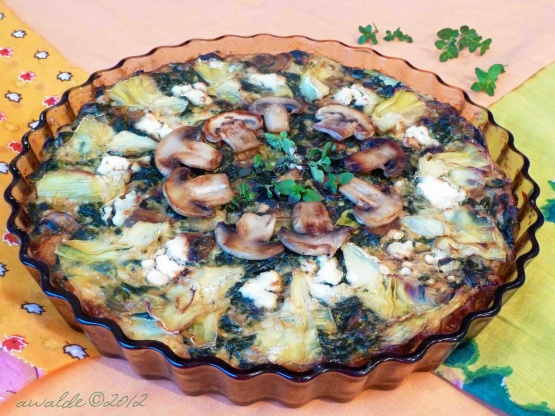 This is a wonderful crustless quiche recipe. You can get creative with the vegetables you add, but the basic recipe works just fine. Slices can be frozen and reheated for individual meals.

Top Review by holbol
This recipe is really simple and allows you to add just about anything to it. In order to stick with the core recipe i added thin slices of potato along the dish as the crust and added zucchini to the rest of the ingredients. Turned out very yummy and doesnt take as long to make if you pre cut the vegetables beforehand.
Preheat oven to 350 degrees.
Saute mushrooms and onions in olive oil with garlic. Add spinach and cook until liquid has reduced.
Mix vegetables with remaining ingredients, salt and pepper to taste.
Pour into pie dish sprayed with nonstick spray. Bake 45 minutes.