Spiked Pork Tenderloin with Sunny Pear Chutney
gailanng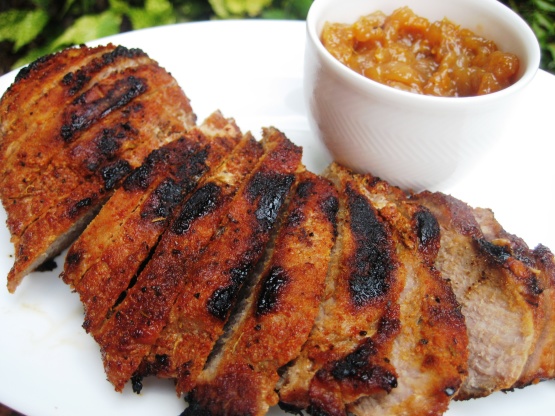 All I can say about this dish is "Wow!!" The pork absolutely melts in your mouth! One of our church members made this dish for the church staff when we were invited to her home for a Christmas luncheon. It was fabulous! We all begged for the recipe! For the complete elegant meal that we were served, please also check out "Green Chili Rice Bake", "Dot's Vegetable Casserole" and "Cherry-Cream Cheese Pie with Graham Cracker Crust". A meal that's a perfect "10"!

Superb! I added fresh garlic to the marinade and used my recipe for the recipe #369334. I, also, sprinkled the pork liberally with a Cajun rub. Using chutney as a condiment was brilliant and found it to be quite nectarous. The tequila was just barely percepitable after being roasted, but truly infused a delicious and distinct flavoring. After having had to buy a bottle of tequila for this dish, I'm supposing I'll have to make good use of it...a round of Marguarita's on me! ;-)
Combine first seven ingredients in a large shallow dish.
Add pork.
Cover and chill 30 minutes, turning occasionally.
Remove pork from marinade.
Bring marinade to a boil in a saucepan; keep warm.
Place pork on a lightly greased rack in a roasting pan.
Bake at 375 degrees for 30-35 minutes or until a meat thermometer inserted in thickest portion registers 160 degrees, basting often with reserved marinade.
Let stand 10 minutes before slicing.
Serve with Sunny Pear Chutney (directions below).
To make the Chutney, cook first seven ingredients in a large saucepan over medium heat 20 minutes.
Stir in walnuts, lime juice, and red pepper.
Cook 10 minutes.
Cool slightly.