Spiessbraten, Idar-Oberstein Style
Susie 3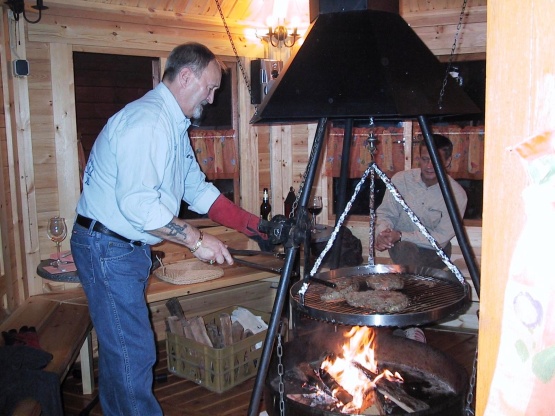 This is a traditional recipe from my home town, Idar-Oberstein, in Germany. The meat is grilled on hardwood fire, using a metal tripod with a fire pan attached to the bottom of the tripod legs and the actual grilling surface hanging from the top of the tripod. If you are interested in a picture of this type of grill, let me know and I will post one. You can use any kind of meat with this recipe. Even half chickens turn out wonderful. Our favorite is pork tenderloin, however. The spice measurements are per pound of meat, so you cannot go wrong if you stick to these measurements. We figure that one pound of meat serves two people nicely. The "pinches" in the measurements are my Mom's pinches: pick up as much as your thumb, index and middle finger can hold.

My Uncle was Oberbürgermeister of Idar-Oberstein and when ever we visited (quite frequently) we would go to the restaurant where your picture was taken. I left Germany many years ago and miss the Spiesbraten very, very much. This recipe really hit the mark for me. Thank you so much for putting this out there. For my next family reunion here in Georgia ... this will be the highlight.
Mix the spices with your hands, squeezing the onions until they get juicy.
Place some of the spice mixture in a dish, place the meat on top and cover with the rest of the mixture.
Cover the dish and marinate for at least 3 hours or up to 6 hours. I don't recommend to marinate over night because the onions will turn bitter.
Fire up the grill and when it has its cooking temperature, remove the marinade from the meat and grill to desired doneness.
If you go with pork tenderloin, make sure you don't overcook the meat. Take it off the grill when it is still flexible when you press on it with your finger. Place it in an oven dish, cover it and let it rest in the oven at about 200 degrees for 10 minutes. This gives the juices a chance to settle and the meat will be soooo tender.