Sara 76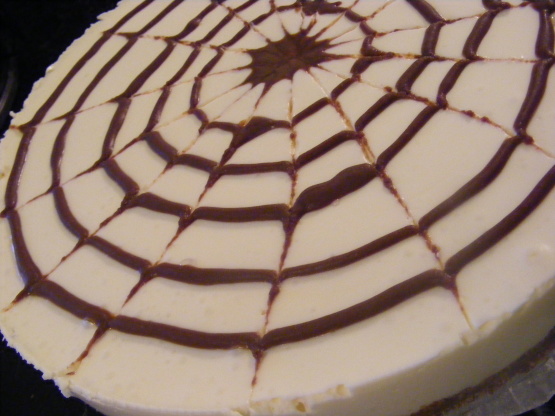 This no-bake cheesecake goes together quickly and tastes delicious. The trick to this tempting treat is pulling a toothpick through rings of melted chocolate to create the web effect. It's fun to serve and never fails to draw comments. Plan ahead because it needs to chill for at least two hours. Time does not include chill time.

This was simple to make, and utterly delicious! I doublee the recipe and took it to work for morning tea..everyone raved about it!! I made my own base, using a packet of Delta Creams (similar to Oreos) and a packet of Milk Arrowroot cookies, all crushed in the blender, and added enough melted butter to make it come together. I was concerned that the mixture was so runny when I poured it into the springform pan, but it set into a really firm, but creamy dessert.
In a small saucepan, sprinkle gelatin over water, let stand for 1 minute.
Heat gelatin, stir until dissolved.
Remove from the heat, cool slightly.
In a mixing bowl beat the cream cheese and sugar until smooth.
Gradually beat in whipping cream, vanilla and gelatin mixture until smooth.
Pour mixture into crust.
In a microwave, melt chocolate chips and butter; stir until smooth.
Transfer to a heavy-duty resealable plastic bag, cut a small hole in a corner of bag.
Pipe a small 1/2 in circle of chocolate in center of cheesecake; fill in with chocolate.
Pipe evenly spaced thin, concentric circles about 1/2 inch apart over filling.
Beginning with the center circle, gently pull a toothpick through circles toward outer edge.
Wipe toothpick clean.
Repeat to complete web pattern.
Cover and refrigerate for at least 2 hours before cutting.