Nasseh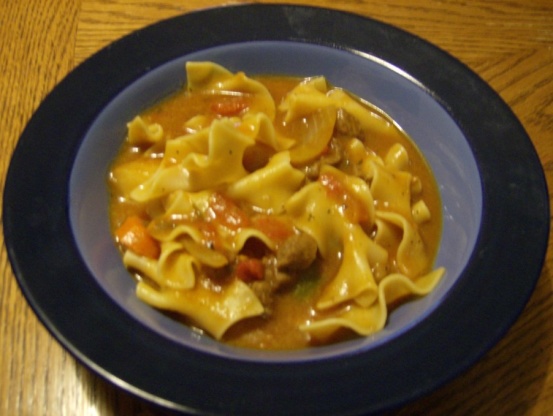 I wanted a soup that all my family would eat. After reviewing many recipes online I came up with this flavorful soup.

This was absolutely delish!! I had to make some changes. I didnt have any beef laid out. And really I was looking for another recipe when I found this one. So I adjusted this recipe to use chicken that I had already cooked down in the freezer and used some leftover bbq chicken I had in the fridge. I used chicken stock and a tad bit of chicken base. I added some frozen veggies that I had left over in the freezer since the recipe indicated a variation. I know if I used beef I would of ended up with the same results. Thank you for a wonderful recipe. When we have the left overs tomorrow I will serve with a grilled cheese. The kiddo's even loved this recipe. Ty Ty Barefootmomma
Coat the beef in flour, salt, & pepper. Heat the oil in a large pot. Brown the beef in the oil.
Dump the petite tomatoes, tomato sauce, & beef broth into the pot with the beef. Add the parsley, Worcetershire sauce & all the spices into the sauce. Simmer on medium heat for 15 minutes.
Add the vegetables to the sauce & simmer the soup on low heat for 30-40 minutes.
Before the vegetables are completely done add the noodles into the pan & water (enough to cover the noodles). Cook for additional 10 minutes or until the noodles are fully cooked.
Serve with warm bread & butter. Yum!