Spicy White Bean and Sweet Potato Stew With Greens
Prose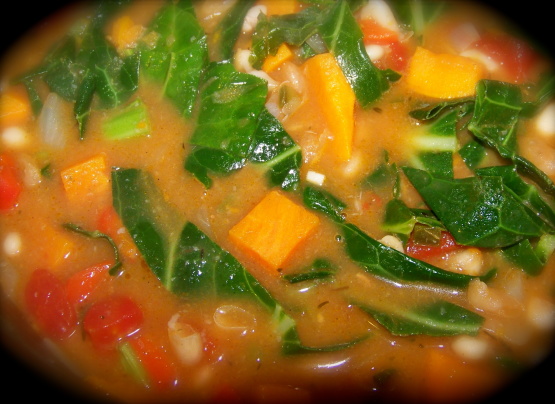 A flavourful and colourful stew, thanks to the host of vegetables and seasonings. Cook the greens separately to avoid any bitter taste. Because sweet potatoes break down easily, it's important not to cook the stew too long. For a mild, yet still flavourful stew, omit the hot chile. Serve it accompanied with crusty warm bread! From Fresh from the Vegetarian Slow Cooker.

this is a delightfully simple seeming and yet complexly flavored soup. the spices are really suiting (i was skeptical about all of that allspice!). i used a couple of medium sized red potatos instead of a sweet potato - that came somewhat out of being skeptical and somewhat out of what was on hand - but after having the completed soup, i think you could do it either way! it wouldn't be too sweet. the heat of the jalapeno has a deceptive build, so it's a nice warming soup for winter or opening up the sinuses!
Heat the oil in a large skillet over medium heat. Add the onions, bell pepper, garlic, and garlic. Cover and cook until softened, about 5 minutes.
Transfer mixture to a 4-6 quart slow cooker. Add the potatoes, chile, ginger, tomatoes, beans, brown sugar, allspice, cumin, bay leaves, and stock; season with salt and pepper. Cover and cook on low 4-6 hours.
Close to serving time, stir in the cooked greens. Adjust seasonings, remove bay leaves, and serve.