Spicy Vegetable Quesadillas
Lvs2Cook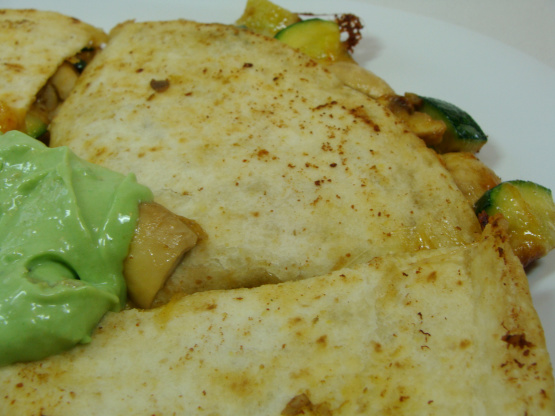 We snack on these during football and basketball season when the games are on TV.

Top Review by Nikoma
Hard for me to rate this fairly since I made a bunch of changes. But what I will say is that I LOVED the Mushrooms and Zucchini. I never would have thought of it! As for changes - I left out the bell pepper (bf doesn't like them) Used green onions (what I had) Cut the chili powder in half (I found the chili powder taste to strong. Not -hot- strong, just chili powdery strong)I used pepper jack cheese (didn't measure, just grated over) And I mixed the cilantro with about 1 tbsp sour cream per quesadilla (I stacked instead of folded). In the end I actually had to go back and make a second batch of 3 for BF's lunch today. Will make these again. Thanks!
Spray a large nonstick skillet with cooking spray.
Over medium heat, when pan is hot, add zucchini, mushrooms, pepper, onion, garlic, chili powder, and cumin, cayenne, and salt.
Saute and stir for 3-4 minutes or until vegetables are crisp-tender.
Remove vegetables and set aside; wipe skillet clean.
Spoon vegetable mixture evenly over half of each tortilla.
Sprinkle each evenly with cheeses and cilantro.
Fold each tortilla in half.
Spray same skillet with cooking spray.
Add tortillas and heat 1 to 2 minutes on each side over medium heat or until lightly browned and cheese is melted.
Cut into thirds and serve.