VickyJ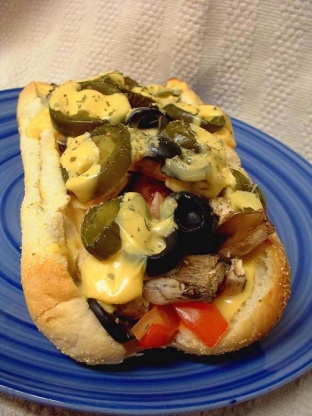 This is something I came up with when I didn't know what else to have, and I knew that I didn't want anything with meat. You can adjust this to more servings. If you don't like jalapeño peppers, you can use another kind.

Really good sandwich. Just the perfect companion to the soup we had for lunch. I sauteed the mushroom a bit and buttered the roll before assembling. This sandwich was satisfying enough that my meat loving DH never made mention of the fact that it was meatless. Thanks for sharing the recipe!
Preheat oven to 375°F.
Line a baking sheet with foil.
Spray baking sheet with nonstick cooking spray.
Place hoagie roll in center of foil (12x12 for one hoagie). Bring up sides of foil around hoagie. This will retain the hoagie's shape while baking.
Layer vegetables in roll however you like.
Break up the two slices of cheese and top off the sandwich with the cheese and Italian seasoning.
Bake for 15-20 min (or however long you like) and enjoy.