lets.eat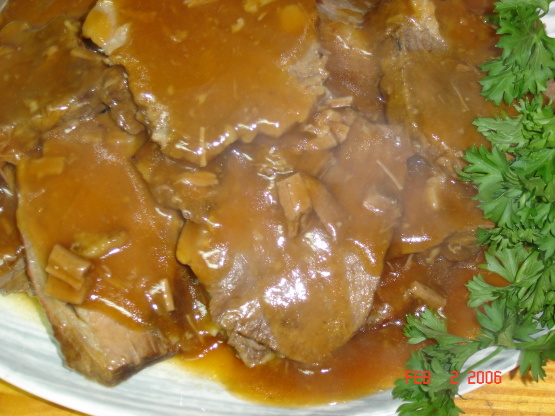 Don't worry if your not a spicy food lover, we don't find it spicy at all-

This was great- thanks LeezaH4! I followed the other reviewer's recommendation and used my crockpot. I browned the roast first and then cooked it on low in the crockpot (with first 7 ingredients) for 8.5 hours. I added some veggies for a 1 dish meal- chopped onion, 1/2 green pepper, 4 carrots (cut in 1 inch pieces) and 6-7 new potatoes. When it finished cooking, I added the cornstarch in the crockpot and put on high for 15 minutes. i will make this one again! And we agreed that this was not spicy.
In a large Dutch oven brown the roast on all sides in oil.
Remove roast and drain off excess oil.
In a bowl combine the garlic, V-8, water, horseradish and the worcestershire sauce.
Replace the roast in the Dutch oven and pour the combined ingredients over the roast.
Bake, covered 325' for 2-2 1/2 hours or until very tender.
Transfer the roast to a warm platter, cover with foil to retain heat.
For the gravy measure cooking juices; skim away the fat. If necessary add enough water to measure 1-1/2c. Return juices to Dutch oven, combine the remaining 2 tablespoons water and the cornstarch, stir into the juices.
Cook and stir over medium heat until bubbly. Cook stirring constantly for 1 minute.
Serve gravy with the roast.