Spicy Turkey Slow Cooker Soup (Ww - Only 3 Pts/Serving)
We enjoyed this simple soup which I adapted from weight watchers.com. It is a little soupy - so if you prefer a thicker soup, you may want to decrease the amount of broth or add some extra veggies. It also freezes great - and actually is better re-heated in the microwave.
Directions
In a bowl combine spices (allspice - garlic salt plus 1/4 teaspoon pepper). Add turkey and toss. Let sit for at least 15 minutes.
Place turkey in crockpot (plus any spices left in the bowl) and next 7 ingredients (garlic - salt plus the remaining 1/4 tsp pepper). Stir to combine.
Cover and cook on low for 7-8 hours.
Stir in lime juice and cilantro and let sit another 5 minutes or so.
Reviews
Most Helpful
This soup had great flavor -- the allspice and ginger were a real surprise to this TexMex style soup. The only thing I did differently was to add a few more veggies such as corn, zucchini and a few potatoes that I needed to use up. I also used chicken tenderloins vs. the turkey. I will definitely be making this soup again -- thanks so much for the post! Made for the Tailgating Tag, September, 2011.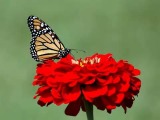 This was such a good soup! I used Turkey Cutlets and browned a little in a bit of olive oil before putting them in the crock pot, I also seasoned them with some Mrs. Dash. I didnt use any allspice , because I didnt have any. Also , just used garlic powder and seasoning salt because again, thats what I had. I loaded everything into the crock pot before leaving the house in the morning. When I got home it was perfect and I thought it was quite chunky and didnt think it was soupy at all. Served with a salad and baked tortilla chips. Very good and will make again . Adding it to my regular list of favorites. Thank you for sharing this : )
Despite the things we did wrong, this recipe turned out well. We sprinkled the seasonings on ground turkey assembled everything but the turkey and spices in crock pot the night before so we could just throw it all together in the morning as we went to work. My husband threw it all together and turned on the crock pot as he left. Unfortunatley, the turkey was still a little frozen and he'd left the paper on the bottom of it when he came down, but I easily removed the paper and figured the turkey would have plenty of time to cook while i was gone. When I got home, I noticed my soup was more the consistency of chili- my husband had apparently misheard me and left the crock pot on high for the past 9 hrs! Luckily, there wasn't anything that was burned, so I added more chicken broth and turned down the crock pot. When we served it, we also forgot the cilantro and lime juice, and I'm sure they would made it even better. Despite all that went wrong, this was delicious and made even better by the fact it was only 3 WW points. I will definitely make this again, on the correct temperature, and make sure to add the final touches before I serve it. Thanks for sharing!