Spicy Tropical Fruit Salsa
skat5762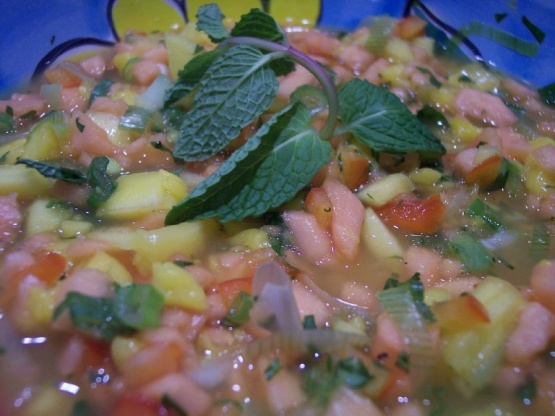 A nicely spiced verion of fruited salsa

This has a super-wonderful blend of flavours! We relished this for dinner tonight. The only thing I had to leave out was the habanero peppers becaus I did not have that on hand. This really made us feel so fresh and good!! Thank you so much for the recipe.
1

small red bell pepper, peeled,seeded,diced

1

medium ripe papaya, chopped
1⁄2 medium ripe mango, chopped

2

habanero peppers, with seeds,diced
1 1⁄2 tablespoons chopped fresh cilantro

1

cup freshly squeezed orange juice

1

tablespoon freshly squeezed lime juice

3

fresh mint leaves, chopped

3

scallions, white and green parts,finely sliced
salt & freshly ground black pepper, to taste
Mix all ingredients together in shallow bowl, and let sit for at least 30 minutes for flavours to meld.
Use this the same day you make it.