Debi9400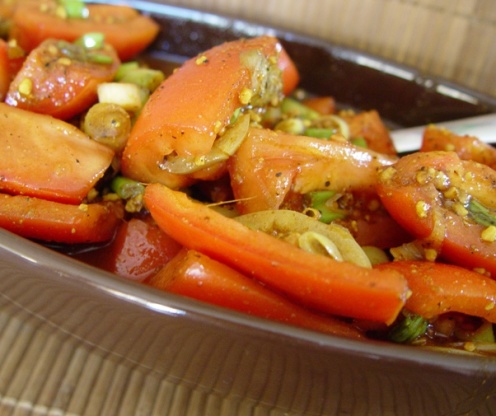 Tasty tomato salad with added spice. I'm not sure where I got this recipe from.

I too had extra dressing--but so delicious! Iused fresh picked tomatoes which were so sweet that they really contrasted beautifully with the dressing. I have now also used the extra dressing on fresh string beans--a second great salad from this lovely and unusual recipe. Thanks, Jewelies!
Place tomatoes, chillies and onions in a serving bowl.
In a separate bowl, combine pepper, seeds, ginger, garlic and spices.
Heat oil in a large saucepan over high heat until it's almost smoking.
Add spice mixture, stir vigorously for 2-3 minutes, then pour over tomato mixture and stir.
Heat balsamic and red wine vinegars, salt and sugar in a pan over high heat until boiling, then immediately pour over tomato mixture.
Mix well and cool to room temperature.