Spicy Tomato Chickpea Stew
Katzen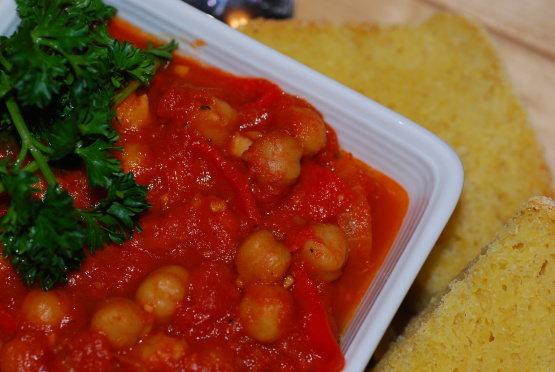 This recipe also comes from Family Circle's Fast Vegetarian Cookbook and is the perfect stew/soup for a cold night. It is filling, easy to make, tastes super yummy and is healthy, too. What more can you ask for? :) I modified it a little to have it produce a smaller quantity and suite my taste even more. I hope you enjoy.

This was good. I agree with Cookgirl that cilantro would do it better, I used flat leaf parsley, extra virgin olive oil, additional canned chickpeas like other reviewers, sea salt, freshly ground black pepper, plus the rest of the ingredients. Made for Veggie Swap #49 ~ August ~
Heat oil in a pan. Stir in onion and garlic. Cook for 4-5 minutes or until soft and slightly browned.
Mix in spices and cook for 1-2 minutes.
Stir in chopped tomatoes, tomato puree and chickpeas.
Bring to a boil, then reduce the heat and simmer for about 15 minutes.
Season well with salt and freshly ground pepper.
Just before serving stir in the parsley.