Spicy Thai Noodles with Vegetables
Whipper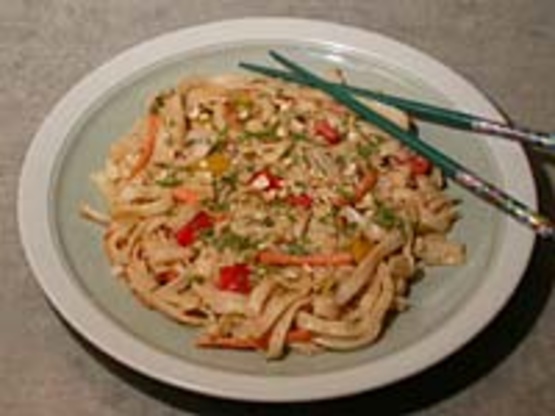 This makes an excellent side dish to go with main-dish stir fries or satays. Add meat to make a main dish. You can locate lemongrass and fish sauce in most Oriental markets.

Superb! A relatively easy and authentic recipe. Some may want to decrease the peanut butter to keep it lighter though.
Cook noodles in boiling water until tender; drain.
Mix ingredients for sauce in a bowl with a whisk until smooth; set aside.
Heat 2 tablespoons cooking oil in a wok or large skillet over high heat (add more oil as necessary during cooking).
Add lemongrass and Thai chiles and cook until fragrant.
Add carrot, scallions, and bell peppers and cook until carrot starts to become crisp-tender.
Add bean sprouts and cook 1-2 minutes more.
Add drained noodles to the pan and pour sauce over noodles.
Using two utensils, lift vegetables from bottom to integrate throughout noodles and mix well.
Garnish with chopped cilantro and chopped peanuts and serve with hot chili sauce (sriracha), if desired.
Cooking tip: you may cut noodles into smaller pieces after cooking with kitchen shears to make them easier to work with.