Spicy Thai Chicken Pizza With Peanut Sauce
Ms. Low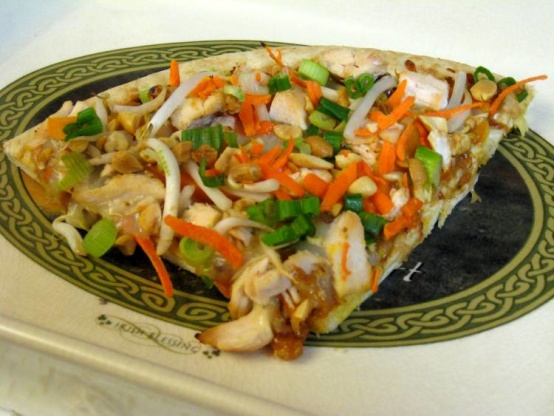 This wonderfully spicy and refreshing pizza is simple and very quick to make. Perfect for a light summer meal.

Tastes exactly like California Pizza Kitchen's Thai Chicken Pizza. I reserved a TBSP of the sauce base & lightly coated the chicken (MmmMmmmm!) I also used an extra 1/2 cup of chicken, 1/2 cup more orange bell pepper, and SHREDDED the carrots with a cheese grater (like CPK does) rather than chop it. Looks gorgeous & colorful coming out of the oven. Pizza with a peanut butter sauce base? ABSOLUTELY! I posted a pic of my masterpiece. ;) Enjoy.
1

thin pizza crust (Boboli or other pre-baked crust)

2

garlic cloves, minced

4.92

ml gingerroot, minced

73.94

ml peanut butter

29.58

ml honey

29.58

ml rice wine vinegar or 29.58 ml apple cider vinegar

14.79

ml soy sauce

4.92

ml red pepper flakes

236.59

ml mozzarella cheese, shredded

1

orange bell peppers or 1 red bell pepper, sliced

236.59

ml pre cooked chicken breast, chopped

2

green onions, chopped

1

carrot, finely chopped

236.59

ml bean sprouts, roughly chopped

59.14

ml peanuts, chopped

118.29

ml cilantro, chopped
Preheat oven to 425°F; do not bake the Boboli yet.
In a microwave safe bowl, add garlic, gingerroot, peanut butter, honey, vinegar, soy sauce and pepper flakes. Microwave until peanut butter is melted (about 1 minute). Mix well with a whisk.
Take pre-baked pizza crust out of the package and top with peanut sauce, cheese, bell pepper and cooked chicken. Bake for 5 minutes or until cheese is melted.
Meanwhile, prepare other vegetables.
Remove crust from oven and top with remaining vegetables, peanuts and cilantro.
Cut and serve immediately while the crust is still hot! Enjoy!