Rita1652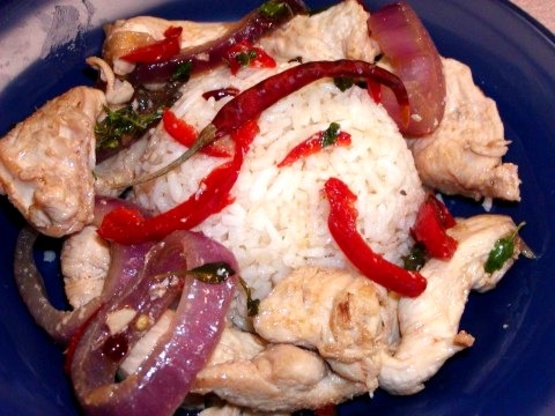 This is from Good Housekeeping. Great served with Jasmine Rice.

This recipe came from Good Housekeeping which explains why this mellow recipe is not authentic Thai. This is mellower then I usually have. This is a good intro to those that want to try a mellower version. I would add a Thai red curry paste along with a good squeeze of lime and add Thai Kaffir Lime Leaves and lemongrass essential ingredients for cooking authentic Thai food. But this recipe is not. And keeping that in mind it was delicious. The chicken very tender. I did use red onion. I served with jasmine rice. Thanks!
Slice chicken into 1/4 inch thick strips.
In medium bowl, combine fish sauce, soy sauce, and brown sugar, stir in chicken slices to coat. Let marinate 5 minutes.
In nonstick 12-inch skillet, heat vegetable oil over medium-high heat until very hot. Add chicken with marinade and cook, stirring occasionally, until chicken slices lose their pink color throughout, about 3 to 4 minutes. With slotted spoon, remove chicken to plate.
Add onion to marinade remaining in skillet and cook, stirring occasionally, until tender-crisp, about 4 minutes. Stir in chiles, ginger, and garlic, cook 1 minute longer.
4Return chicken to skillet, heat through. Stir in basil leaves just before serving.