Spicy Tex-Mex Chicken Cobbler
Linky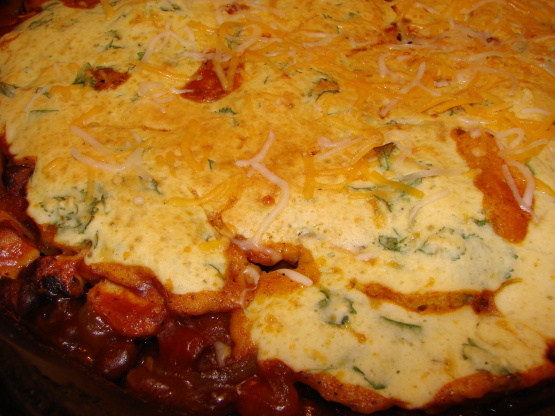 One dish meal that is wonderful!

I'm not sure why this didn't turn out tasting better, especially since we love all of the ingredients. 3 of us didn't finish one serving, but DH seemed to enjoy it, saying it was "pretty good". The cobbler part was too bready, so I'd suggest cutting down on the Bisquick amount and adjust the milk accordingly, like others did. Also, there is no reference to what to do with the other 1/2 cup of cheese. I topped the hot baked cobbler with it, but not sure what its purpose is. Others may enjoy this more.
Saute onion in hot oil in a 10 inch cast iron skillet over medium heat for 3 to 4 minutes or until tender. Stir in beans and next 8 ingredients. Bring to a boil; reduce heat and simmer uncovered for 15 minutes.
Combine baking mix, egg and milk in a medium bowl, stirring until smooth. Fold in 1/2 cup cheese and 1/4 cup cilantro; pour over simmering checken mixture.
Bake at 400 degrees for 20 minutes or until a wooden pick inserted in topping comes out clean. Sprinkle with remaining 1/2 cup cilantro.
Serve with sour cream.