Spicy Swiss Bliss Venison or Pork Chops
Nimz1466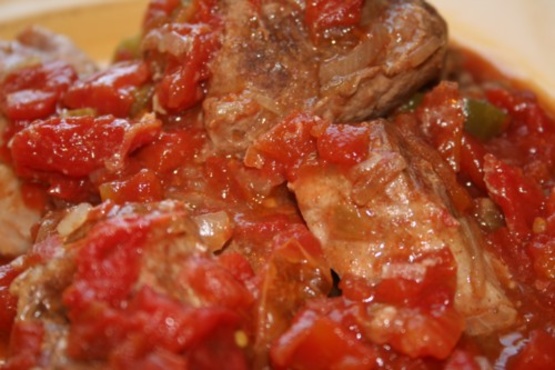 I received this recipe from a co-worker. It is a really great way to serve venison, but if you prefer, pork chops work just as well.

I'm sorry Jellyqueen, but I could not give this recipe more than 1 star. While my husband and daughter liked this, I however did not care for how it tasted. The meat was rather bland, the sauce was runny, the green peppers were soggy, and all I could taste was the heat from Rotel Tomatoes. I think more cornstarch should be added, to thicken up the sauce. I did use 2-(1 lb.) venison tenderloins, which worked really well in this recipe, but my husband wasn't too pleased, as he'd prefer I keep the tenderloins to make his favorite sandwich, a fried venison & onion sandwich. Guess I should of used cubed venison stew meat instead. Even tho I could not give this recipe more stars and a good review, I am however pleased to see others have enjoyed this dish.
Line a 13X9 inch casserole dish with foil- this foil has to be large enough to fold over and seal tightly after the food is arranged in the dish.
Preheat oven to 350 F.
Spread center of foil with margarine.
Cut steak into serving portions and arrange, slightly overlapping on foil.
Sprinkle with onion soup mix, green pepper, tomatoes and seasonings.
Mix the Steak Sauce with the reserved tomato juice and cornstarch.
Pour over meat and vegetables.
Bring foil up over and double fold edges to seal tightly.
Bake 2 hours.
Roll back foil and sprinkle with chopped fresh parsley.