Spicy Sweet Potato (Yam) Pasty
ImPat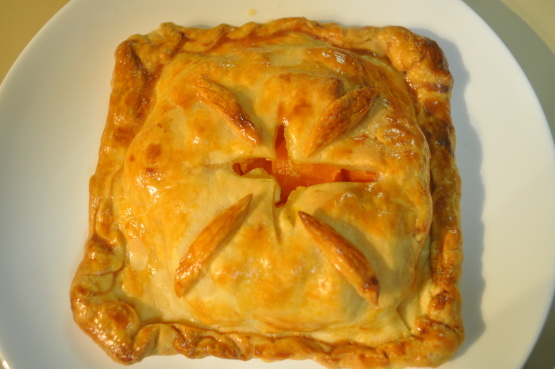 A sweet potato and carrot mix with feta cheese, wrapped in shortcrust pastry. This is one of my first real forays into a recipe made up on the spot with what you have in the cupboard, so I'm quite proud! This also keeps well wrapped in foil in the fridge, for a lighter meal with a salad. I've also tried this with just sweet potatoes (although the carrot enhances the flavour) and with spinach (about 125g) instead of broccoli.

Top Review by ImPat
I scaled this back to make 2 individual pasties for the DM - one for tonight and one to freeze and rehat later and I still had mix left over. The DM realy enjoyed her b=vegetarian pastie though for her I omitted the chilli and broccoli otherwiseit would have been a battle to get her to eat. Thank you Boo L and to Karen Elizabeth for her recommendation - recommended in IRecoomend Tag game.
Preheat the oven to GM6 (200C / 400F).
Chop the sweet potato and carrot into small chunks, about 1cm-1.5cm across.
Crush the garlic onto a layer of foil, and sprinkle over the cumin and chilli powder.
Put the sweet potato and carrot onto the foil, and roil them in the spices.
Wrap the veg up completely, so that they bake rather than roast, and put them in the oven for 35 minutes.
Meanwhile roll out your shortcrust pastry to make a rectangle about 12" by 9".
Break up 100g of feta cheese and crumble it across half of the pastry (leaving a gap of about half an inch around the outside of the filling).
Cut the broccoli into very small pieces and dot in between and over the feta.
When the baking veg comes out of the oven mash it well. If it won't mash, put it back into the oven until it's soft enough to do so.
Spread the mash over the broccoli and feta and then top with the remaining feta.
Fold the other half of the pastry over the filling, and push it down well to seal the pasty.
Wash with egg or milk and bake at GM 7 (425 F / 220C).