Bergy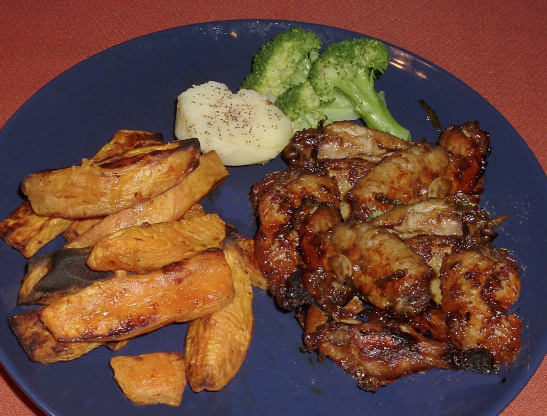 Several different spice combinations make these fries versatile. Try also with regular potatoes. Delicious!! from local newspaper.

Delicious! I stuck with the basic recipe except that instead of rosemary (not my favorite herb), I used garlic powder, cayenne and sugar (actually xylitol) to give it a spicy-sweet flavor. I broiled it for the last few minutes to help crisp the edges. The thinnest wedges turned out the most crispy (I recommend 1/2"). Next time I'm only to use regular salt instead of coarse because it's not as strong. The basic recipe (olive oil, heat, timing, etc.) was just perfect! The flavor and texture of these fries was delectable. I plan to experiment with more seasoning combinations, such as fresh garlic and parsley.
Preheat oven to 500f degrees.
Cut potatoes into wedges.
Place wedges in a bowl with remaining ingredients, toss potatoes until evenly coated.
Season with salt and pepper if desired.
Arrange seasoned potato wedges in a single layer on greased baking sheet for quicker baking.
For crisper fries, place potatoes at least 1 inch apart.
Bake on middle oven rack for approximately 20 minutes or until crisp on the outside and soft inside when pricked with a toothpick or fork.
Turn once about half way through baking.